The City of El Paso now has a chance to see the money we already pay in taxes be put to good use. If there is nothing else you take away from this, I ask that you consider the excellent opportunity for these resources, which are already coming out of our pockets, to produce something that will generate jobs, entertainment, and establish a new standard of living here in El Paso. These resources can be obtained for the purpose of sustainable self-improvement. The solution to a major debate may be at arms reach, and the ability to drastically improve the standard of living in our city lies at our fingertips. All of this comes in the form of tax breaks offered by the State of Texas. The foundation for our potential future has already been laid, and now El Paso has the chance to take something other towns in our region have benefited from immensely and mold it into something greater.
On February 2, 2015, the Texas Historical Commission awarded our city a $56,000 grant in order to survey downtown El Paso with the hope of creating a historical district that will complement the seven that already exist. The survey would make available federal and state tax credits that would pay up to 45% of the cost of renovating income-producing historic properties.This covers a wide range of possibility. These businesses could be anything from new restaurants to apartments, art galleries, bars, night clubs to various start-ups. Businesses that already occupy these potential historical districts would also qualify for the same tax credits.
The grant would cover roughly half of the cost of the survey. The funding shortfall is relatively insignificant and can be resolved quickly. The biggest hurdle we face comes in the form of a general lack of understanding of the potential benefits of a national historic district in our downtown. If more citizens understood what we could gain, or were even aware of the grant in the first place, their support would be undoubtedly greater. Take it from the letter featured below from David Bush, Deputy Director of Preservation Houston. The City of Houston had a total of 14.8 million visitors in 2014, and tourists spent approximately $16 billion during 2013 in an industry which provides its citizens with over 128,500 jobs. In his letter, Bush states that "having survey results and a National Register district in place are themselves incentives for property owners to rehabilitate their buildings because individuals would not be required to verify historical significance and seek designation of their own."
Below, I have displayed ten letters of praise and support. As you can see Mr.Bush is not alone in his belief that the establishment of a National Register district downtown would benefit our city. The authors are extremely talented, eloquent, and have stepped forward to reiterate the importance of this opportunity. Their recommendations speak for themselves, and I invite you to spend some time reading each submission. Beneath each, I have included a summary of the salient financial, ethical and common-sense points. All of this information was obtained and made available to us courtesy of Max Grossman. Please click the image of each letter to enlarge.
We are not alone in this undertaking and other major cities within the state have already committed their support to this cause. As the following letter from Texas State senator Jose Rodriguez declares "A broad coalition of citizens and officials are eager to begin a new discussion and to collaborate on proactive action to ensure our unique heritage is protected, preserved, and promoted for generations to come." Our city's bright future lies just outside of our reach, and we need to ensure that it does not slip through our fingers.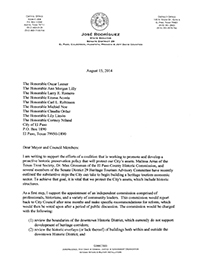 In the letter above, State Senator Jose Rodriguez outlines his support for the establishment of a Downtown Historic District and provides a summary of what exactly the cultural resources and management firm in charge of establishing these boundaries would be doing:
"(1) review the boundaries of the downtown Historic District, which currently do not support development of heritage corridors;
(2) review the historic overlays (or lack thereof) of buildings both within and outside the downtown Historic District and
(3) review the municipal statutes that govern demolition, modification, and code enforcement."
"On a related note, the El Paso Times reported that the City waives demolition and other fees for the downtown area. This current policy seems to encourage demolition, rather than restoration, of structures. For that reason, I echo what local preservationists have requested, and I respectfully ask the city to consider placing a moratorium on the demolition of downtown edifices that are 75 years or older until the commission completes its work and reports back to the City."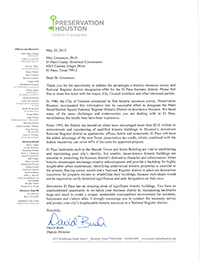 Here is the letter from David Bush which I briefly touched on above. In addition to the point  I highlighted, he also states the following:
"Since 1995, the federal tax incentives alone have encouraged more than $210 million in reinvestment and reporposing of qualified historic buildings in Houston's downtown National Register district as apartments, offices, hotels and restaurants. El Paso will have the added advantage of the new Texas preservation tax credit, which, combined with the federal incentives, can cover 45% of the costs for approved projects."
"Downtown El Paso has an amazing stock of significant historic buildings. You have an unprecedented opportunity to revitalize your business district by repurposing landmarks large and small to create a unique, sustainable cosmopolitan environment for residents, businesses and visitors alike. I strongly encourage you to conduct the necessary survey and protect your city's irreplaceable historic resources in a National Register district."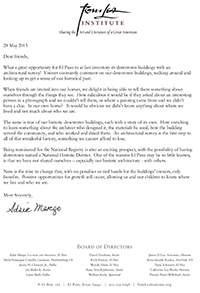 Above is a letter from Adair Margo, former Chairman of the President's Committee on the Arts and the Humanities during the two-term Presidency of George W. Bush. During her tenure, Margo focused on international cultural diplomacy with a large emphasis on relations between the U.S. and Mexico. This woman has accomplished so much in her life that any description I could offer would not do her justice.
For more info on Adair, click the following link: http://adairmargo.com/adair.html
"When friends are invited into our homes, we delight in being able to tell them something about ourselves through the things they see. How ridiculous it would be if they asked about an interesting person in a photograph and we couldn't tell them, or where a painting came from and we didn't have a clue. In our own home? It would be obvious we didn't know anything about where we lived and not much about who we are."
"Now is the time to change that, with no penalties or tied hands for the buildings' owners, only benefits. Positive opportunities for growth will occur, allowing us and our children to know where we live and who we are."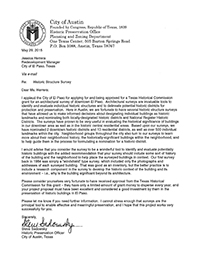 This letter comes from Steve Sadowsky of the Historical Preservation Office of the City of Austin. Within it, he states his support for the project and offers the following advice:
"I would advise that you consider the survey to be a wonderful tool to identify and evaluate potentially historic buildings with the added recommendation
that your survey should include some sort of history of the building and the neighborhood to help place the surveyed buildings in context. Our first survey back in 1984 was simply a "windshield" type survey, which included only the photographs and addresses of each surveyed building. That was good as an inventory, but the better practice is to include a research component in the survey to develop the historic context of the building and its environment -i.e., why is the building significant beyond its architecture."
"Please consider yourselves very fortunate to have received approval from the Texas Historical Commission for this grant- they have only a limited amount of grant money to disperse every year, and your project proposal must have been excellent and considered a good investment by them in the preservation of historic buildings in El Paso."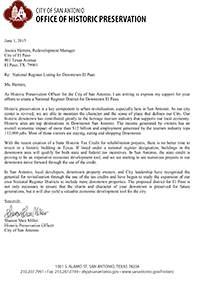 Shannon Shea Miller, Historic Preservation Officer for the City of San Antonio lists the benefits her city has gained from the establishment of a National Historic District and the necessity for El Paso to do the same.
"Our historic downtown has contributed greatly to the heritage tourism industry that supports our local economy. Historic sites are top destinations in Downtown San Antonio. The income generated by visitors has an overall economic impact of more than $12 billion and employment generated by the tourism industry tops 112,000 jobs. Most of those visitors are staying, eating and shopping Downtown."
"In San Antonio, local developers, downtown property owners, and City leadership have recognized the potential for revitalization through the use of the tax credits and have begun to study the expansion of our own National Register Districts to include more downtown properties. The proposed district for El Paso is not only necessary to ensure that the charm and character of your downtown is preserved for future generations, but it will also yield a valuable economic development tool for the city."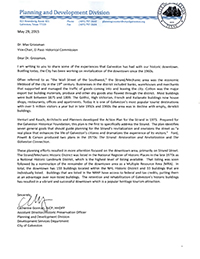 Catherine Gorman, Assistant Director/Historic Preservation Officer for the City of Galveston, describes some of the incentives her city has implemented. It's worth noting that Galveston, a city with roughly 6% of the population of El Paso County, has been benefiting from heritage tourism since the 1970s. She states:
"In total, the downtown has 159 buildings located within the NHL Historic District and 33 buildings that are individually listed. Buildings that are listed in the NRHP have access to federal and tax credits, putting them at an advantage over non-listed buildings. The retention and rehabilitation of Galveston's historic buildings has resulted in a vibrant and successful downtown which is a popular heritage tourism attraction."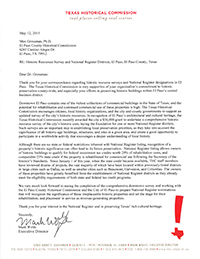 Here, Mark Wolfe, Executive Director of the Texas Historical Commission, explains the future incentives made possible by the $56,000 grant our city was awarded and highlights the necessity for further action.
"Downtown El Paso contains one of the richest collections of commercial buildings in the state of Texas, and the potential for rehabilitation and continued commercial use of these properties is high. The Texas Historical commission encourages citizens, local history organizations, and the city and county governments to support an updated survey of the city's historic resources. In recognition of El Paso's architectural and cultural heritage, the Texas Historical Commission recently awarded the city a $56,000 grant to undertake a comprehensive historic resource survey of the city's historic core, laying out the foundation for one or more National Register Districts. Such surveys are an important step in establishing local preservation priorities, as they take into account the significance of all historic-age buildings, structures, and sites in a given area, and create a good opportunity to participate in a worthwhile activity that encourages a deeper understanding of local history."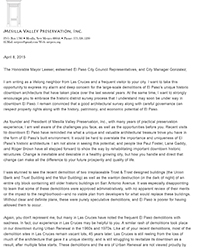 This letter comes courtesy of Eric Liefield, President of Mesilla Valley Preservation, Inc. in our sister city of Las Cruces, New Mexico. His input is sincere and moving, especially considering the fact that his realm of influence does not extend to our state.
"I was stunned to see the recent demolition of two irreplaceable Trost & Trost designed buildings (the Union Bank and Trust Building and the Muir Building) as well as the wanton destruction (in the dark of night) of an entire city block containing still older historic buildings on San Antonio Avenue. It was especially disappointing to learn that some of these demolitions were approved administratively, with no apparent review of their merits or the impact to the neighborhood—and no viable plan from developers for what would replace these buildings. Without clear and definite plans, these were purely speculative demolitions, and El Paso is poorer for having allowed them to occur."
"Again, you don't represent me, but many in Las Cruces have noted the frequent El Paso demolitions with sadness. In fact, our experience in Las Cruces may be helpful to you. A similar rash of demolitions took place in our downtown during Urban Renewal in the 1960s and 1970s. Like all of your recent demolitions, most of the demolition sites in Las Cruces remain vacant lots, 45 years later. Las Cruces is still reeling from the loss of much of the architecture that gave it a unique identity and is still struggling to revitalize its downtown as a result, after multiple false starts. These demolitions and the era of Urban Renewal are not viewed proudly by 2 our residents today. The politicians who allowed them are seen by many as short-sighted pariahs who sold out Las Cruces' future, and the economic losses from not having a thriving downtown for the last several decades are incalculable. Fortunately, Las Cruces today is starting to capitalize on its history and there are multiple sensitive rehabilitation projects under way."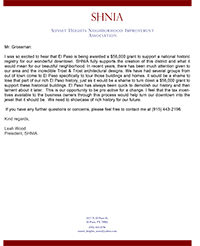 This letter come from Leah Wood, President of The Sunset Heights Neighborhood Improvement Association here in El Paso. I feel that the following best explains the general necessity for our city to embrace this opportunity:
"El Paso has always been quick to demolish our history and then lament about it later. This is our opportunity to be pro-active for a change. I feel that the tax incentives available to the business owners through this process would help turn our downtown into the jewel that it should be. We need to showcase of rich history for our future."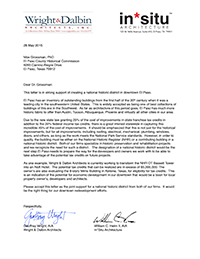 This letter signifies the joint support of both Geoffrey Wright and William C. Helm II. The men are members of the American Institute of Architects and represent their respective local firms Wright & Dalbin Architects and In*Situ Architecture. They provide a window to potential benefits and cite similar projects they are working on currently:
"As one example, Wright & Dalbin Architects is currently working to transform the NHR OT Bassett Tower into an Aloft Hotel. The potential tax credits that can be realized are in excess of $5,000,000. The owners are also evaluating the 8-story Mims Building in Abilene, Texas, for eligibility for tax credits. This is an indication of the potential for economic development in our downtown that would be a boon for local property owner's, developers and architects."
We stand at a pivotal point in our city's history. Our ability to build a better future lies in our willingness to take advantage of the precious architectural patrimony we have inherited. Our fellow Texans and neighbors already perceive this opportunity. We simply need to embrace it ourselves.